NOTE: If you get the warning about this page wanting to run scripts or an ActiveX control, it's because of a couple javascript routines to play sounds, display a cursor, or improve navigation. There are no ActiveX routines associated with this page. I don't do viruses or hacker crap, but it's your choice...You won't miss anything important by refusing permission.
A NOTE ON SHOP VACUUMS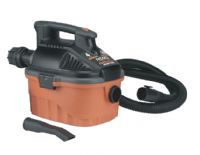 The shop vacuum I own is the Ridgid WD4050, bought at Home Depot. It has good suction and takes a HEPA filter, which is important in this application.

This unit is no longer sold but has been replaced by a very similar model.

It's significant defect, continued in the current model, is that the hose diameter (1 7/8 inches) is completely nonstandard. It will only accept the few attachments made specifically for this model.

There are no fittings or adapters (including the rubber multi-diameter type) which will fit this diameter hose. It cannot be attached to the dust collection ports on any power tools.

For that reason, in order to attach the vacuum hose to the sanding box, I had to purchase the compatible crevice tool and saw off the nozzle, leaving the fitting.

With any luck, your vacuum is the more common 1 1/2 or 2 inch diameter and you can find an off-the-shelf fitting.



All original contents copyright bilagaana. All rights reserved.