NOTE: If you get a warning about this page wanting to run scripts or an ActiveX control, it's because of a couple javascript routines to play sounds, display a cursor or graphics, or improve navigation. There are no ActiveX routines associated with this page. I don't do viruses or hacker crap, but it's your choice...You won't miss anything crucial by refusing permission. This page displays properly in most current browsers.
How To Build A
HUMMINGBIRD BATH
INTRODUCTION
You may have seen the entertaining YouTube video of a hummingbird pool party, or one of the many other videos of hummingbirds bathing in shallow fountains.
Everyone has their own ideas about what makes a bath inviting to hummingbirds, with differences in things like depth, volume of flow, and having a fountain or mist sprayers. Hummingbirds are no more selective than other birds and are just looking for a source of clean, fresh water in which they can wade without struggling.
I decided to recreate the fountain shown in that pool party video, just because the basic design looked clean and elegant. The video to the right is of an early prototype of the result.
This design is simple to build, requiring basic tools and no special skills. It is lightweight and easy to clean and maintain. The components are readily available and the total cost comes in around $100.
TOOLS
pocketknife -- To cut the tubing.
electric drill -- A drill press makes things easier, but is not necessary.
drill bit -- For drilling the rubber cork. A Forstner bit gives the cleanest hole but a sharp twist drill will work.
PARTS
pump
cube planter
catch basin -- a plastic planter saucer
rubber cork
vinyl tubing
plastic anthurium (optional)
plywood (optional)
pedestal -- a plastic planter
A detailed discussion, specification and source for each part is in the sections which follow.
ANY PRODUCT-SPECIFIC LINKS TO ONLINE RETAILERS ON THE FOLLOWING PAGES ARE PROVIDED FOR CONVENIENCE, ONLY. THE AUTHOR DOES NOT RECEIVE COMPENSATION OR CONSIDERATION OF ANY KIND FROM THE SITES OR SELLERS. (Amazon's partner program, in particular, is more hassle than it's worth.)
1. THE PUMP
The choice of pump can influence other design considerations. There are two main types:
AC (household current)
DC (solar powered)
Both have advantages and disadvantages:
AC PUMPS
ADVANTAGES
AC powered pumps have several advantages compared to solar powered pumps:
Consistency -- They will keep the water flowing regardless of the availability of sunlight.
Power -- Comparably-sized AC pumps have generally higher flow rates (the amount of water pumped per hour) and higher lift (how high a column of water can be pumped).
Flexibility -- Many models have easily adjustable flow rates.
Economy -- A small AC pump appropriate for this hummingbird bath is significantly less expensive.
DISADVANTAGES
Connection -- The primary disadvantage is the need for an AC power source. You must run an electrical cord from an outlet directly to the pump. An accessible weatherproof outlet and safe path for the cord are necessary.
Electricity -- AC power is potentially hazardous, especially near water. These pumps are designed and certified to be submerged in water. For safe operation, the components must be handled properly and their integrity maintained.
DC SOLAR POWERED PUMPS
Because I didn't want to be tripping over power cords, the nearest weatherproof outlet was not near the location where I wanted to place the birdbath and I have an informed aversion to submerging my hands in any body of water containing an alternating current device, I initially decided to use a solar powered pump.
ADVANTAGES
The principal advantages of a solar powered pump are:
Safety -- These low voltage, low amperage DC current devices are safe for children and other living things.
Portability -- They can be placed anywhere in your yard that receives direct sunshine without requiring a nearby electrical power source.
Cordless (almost) -- The only cord is a small diameter, ten foot length cable from the solar panel.
However, there are several significant disadvantages:
DISADVANTAGES
Need for unobstructed sunlight -- These pumps will operate only in direct, bright sunlight. They will not operate early in the morning when many birds prefer to bathe, late in the day, at night, or any time there is substantial cloud cover. (See the photo at right, taken mid-morning on a day with moderate overcast.)
Low power -- These are low power devices able to move only a limited volume of water. That is not necessarily a problem with this particular fountain design but may limit your design choices.
Lack of adjustability -- Generally, the flow rate (the volume of water pumped at any given moment) depends entirely on the intensity of illumination of the panel.
Models with battery backup can overcome some of those restrictions but only for a limited number of hours. These are also more expensive than pumps without batteries and when used in this particular application may not justify the investment.
It is possible to build a solar tracker to improve performance throughout the day as the sun transits but this also introduces another level of complexity and expense.
To adjust the flow rate, installing a potentiometer is one option, blocking off a few of the cells in the solar panel is another. Both of those options are unreliable and more complicated.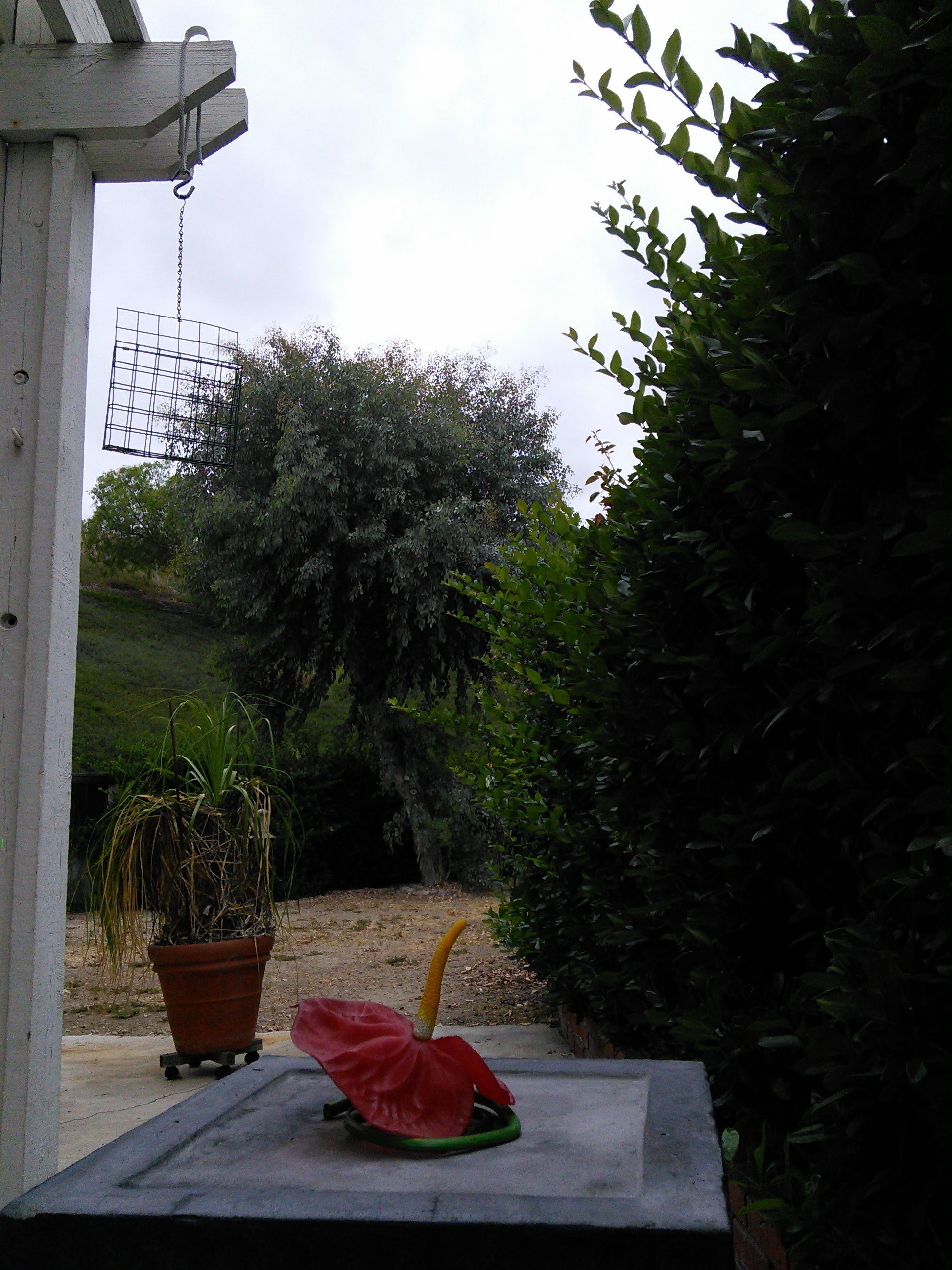 If you have easy access to a safe and convenient outdoor outlet and are comfortable with an electrical device in water then an AC pump is generally the better option.
RECOMMENDED PUMPS
RECOMMENDED SOLAR PUMP
The birdbath in the video is using the
Lewisia 5W Solar Fountain Pump
which sells for around $32.00.
This pump has a maximum rate of flow of 380 liters per hour (L/h). It comes with a 10 foot (3 meter) cord and the manufacturer does have extension cables available.
The less expensive 1.5W pump shown on that product page has a flow rate of 175 L/h and produced a very low volume bubbling flow which never completely covered the surface of the bath.
I have not tested the Lewisia Battery Backup Solar Fountain Pump which retails for $50. In that model the solar panel charges a battery which then powers the pump. It is said to run for 16 hours (after an 8 hour charge). However, the flow rate is lower at 200 L/h which may not be adequate in anything less than ideal conditions.
RECOMMENDED AC PUMP
The
PonicsPump PP12005
is a powerful, economical choice.
It has a claimed maximum flow rate of 120 GPH, which is equivalent to approximately 450 L/h.
It is small enough to pump effectively in the shallow catch basin used in this birdbath and has an easily adjustable flow rate.
At the time of writing, the model with the five foot cord retails for less than $15.00.
There is an equivalent model offered with a sixteen foot cord, which is strongly recommended.
For most installations, this pump is probably the best overall choice. I eventually changed over to this particular pump after a several week trial of the solar-powered unit.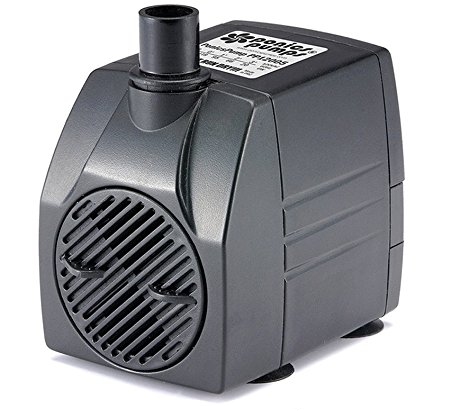 2. THE CUBE
The body of the fountain, the central cube, is the 12 inch version of the Napa Fiber-Clay Planter.
This planter is made of a fiberglass and resin material which meets the requirements of light weight and durability. The surface has an esthetically pleasing natural appearance which mimics natural stone.
This particular planter is, at the time of writing, available on special order from Home Depot at a reasonable price. Every once in a while it is listed as having been discontinued but a search for square fiber clay planters shows they can be found from other sources.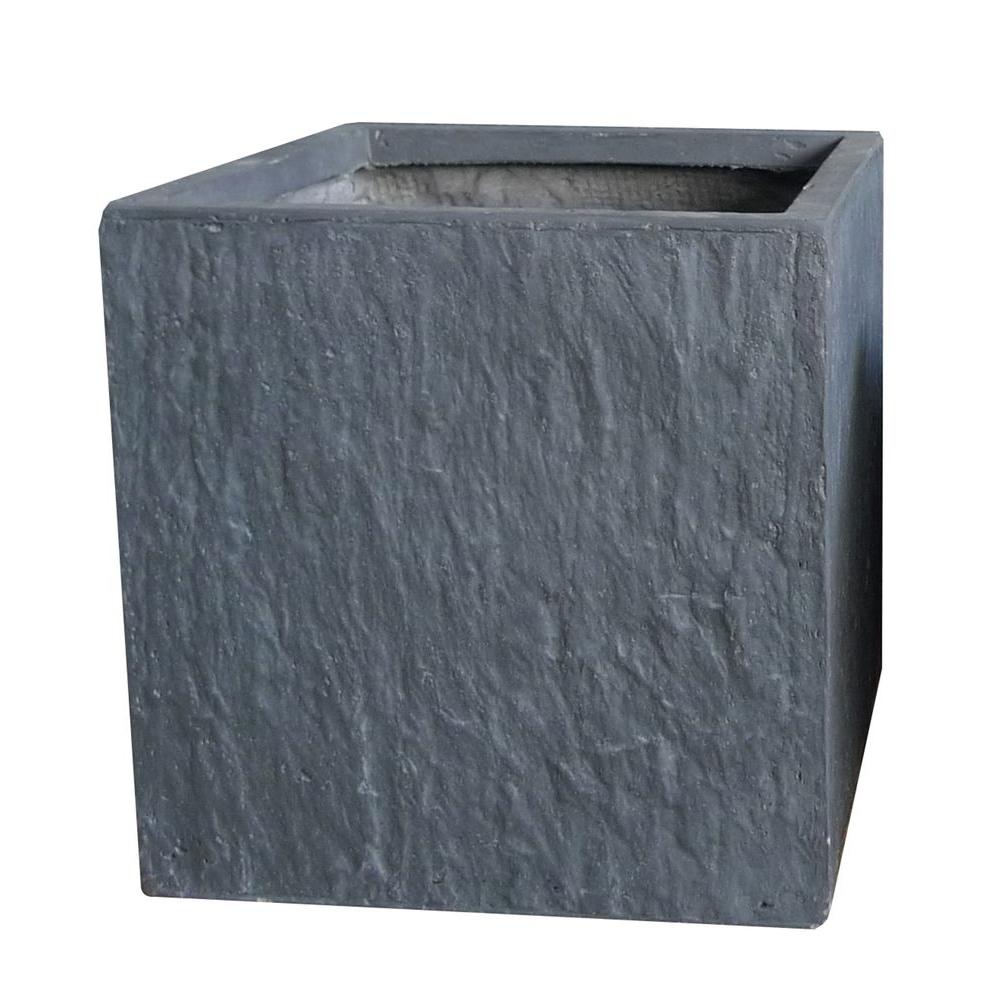 Conveniently, when the cube is inverted the drain hole will accommodate the cork and vinyl tubing for the head of the fountain. The slightly raised margin around the edge forms a pool shallow enough for small birds to comfortably stand in.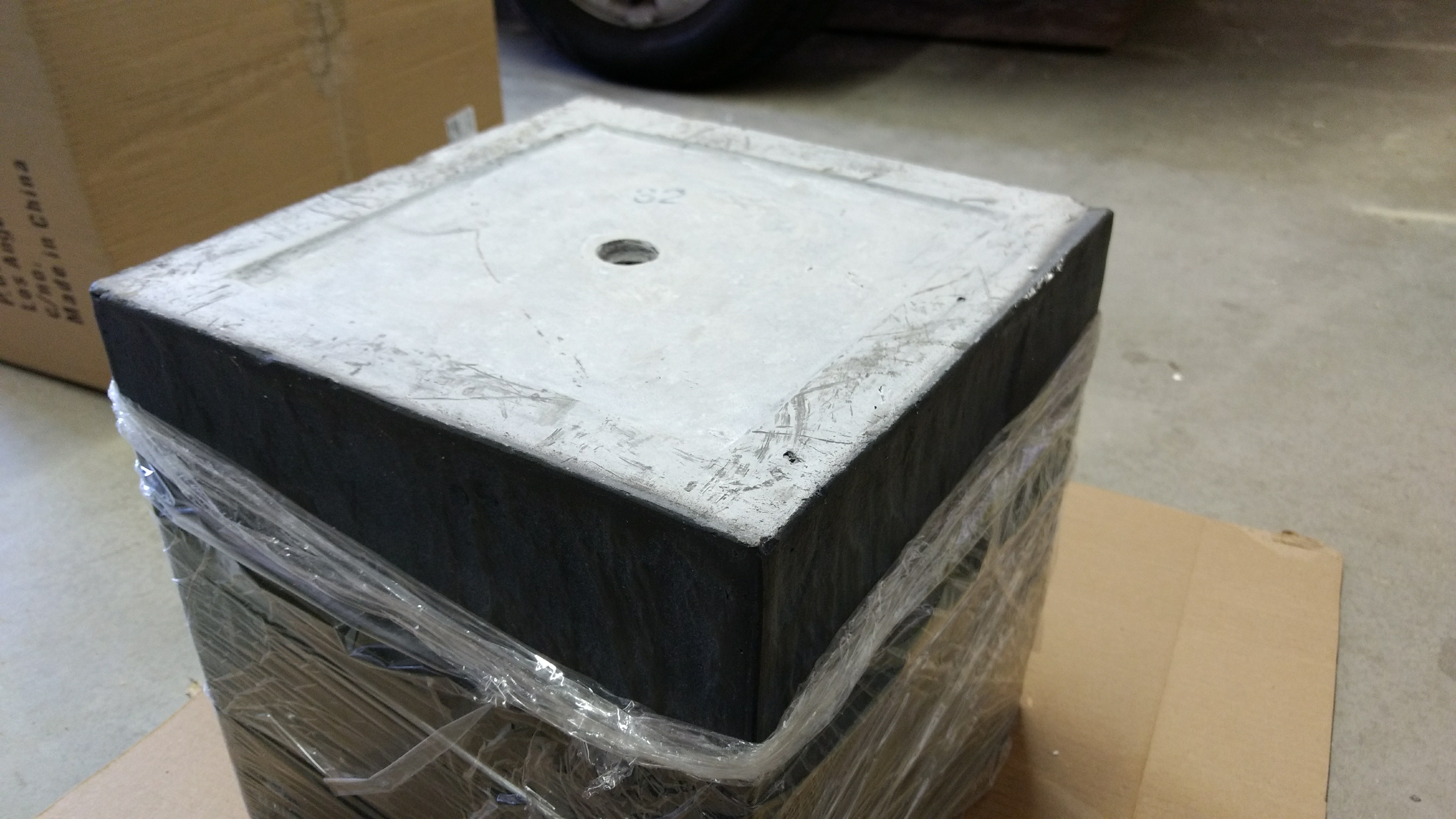 3. THE CATCH BASIN
The catch basin is a plastic planter saucer. These come in various diameters and colors. The birdbath in the video uses the Bloem black saucer, available on special order from Home Depot. This saucer is also available in a terra cotta color. In any color, the twenty-two inch version fits the twelve inch cube.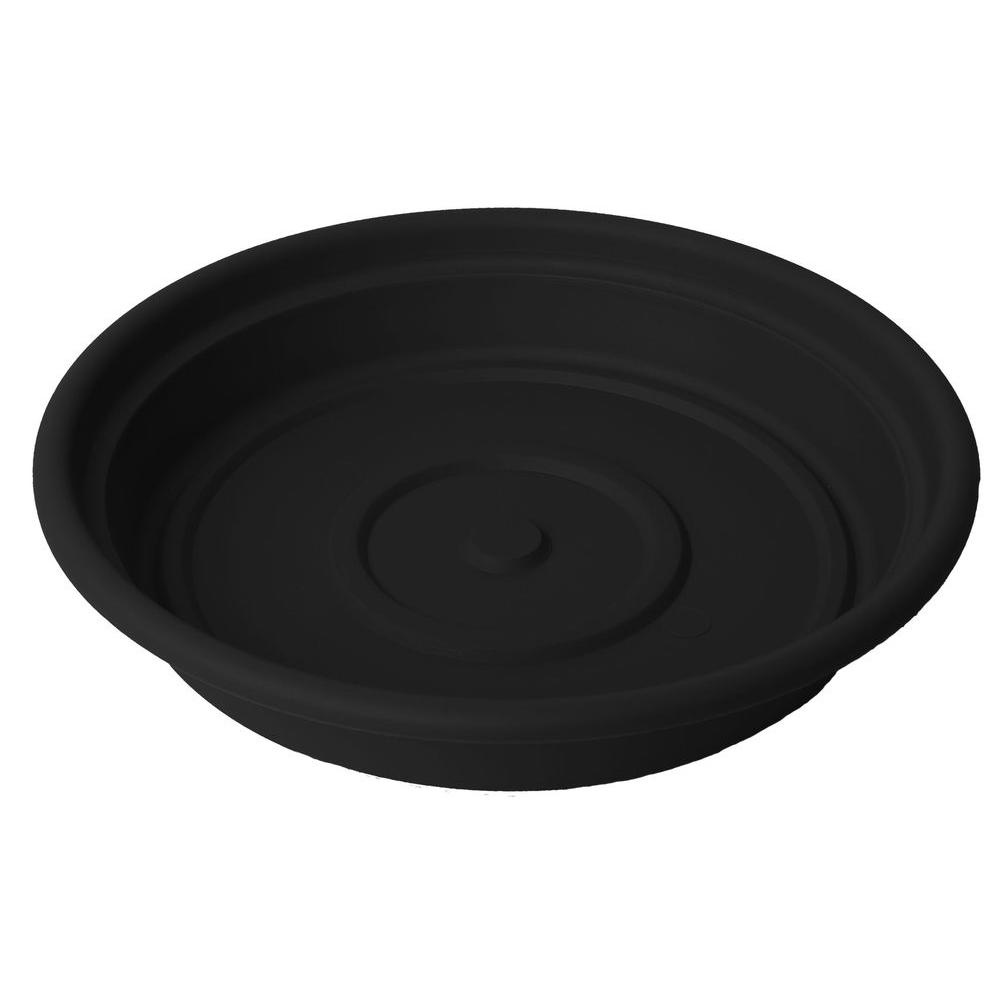 4. THE CORK AND TUBE
It is not recommended to use the black rubber corks commonly available at hardware stores, which have a high sulfur content. A better alternative are the food grade corks used in home brewing and other applications. These are made of an inert, more pliant and durable silicone material.
The #3 White Silicone Rubber Stoppers from WidgetCo are high quality and inexpensive. I suggest ordering three or four to have spares around.
Cutting the hole for the tubing requires some planning. For safety, don't try to hold the cork in fingers or hand during drilling. Using a vise distorts the soft rubber of the cork, resulting in a ragged and asymmetrical hole. Instead, I used a drill press with two different sized bits to cut a hole--wide at the top with a narrower bottom opening--in a block of soft wood, then sawed that block in half. This made a serviceable clamp to hold the cork for the subsequent drilling of the hole for the tube. As a further experiment, I formed a cube of polymer clay around a cork (leaving the wide and narrow ends exposed), sliced that cube in half and baked it to firmness. Both these clamps require the addition of some removable cloth tape around the cork to improve grip and prevent spinning while drilling.
The tubing is standard vinyl tubing available from most hardware stores. The only important specification is the inside diameter (ID). This should match the outside diameter (OD) of the pump outlet. If you are using the AC Ponics Pump recommended above, then use a 1/2 inch ID. If using the solar-powered Lewisian pump, then 7/16 ID will work.
Some pumps come with adapters which will accomodate different diameters of tubing.
If the tubing is too snug to fit the pump outlet, dipping the end in very hot water will soften it enough to stretch.


NEXT: ASSEMBLY
HOMEPAGE



All original contents copyright bilagaana. All rights reserved.